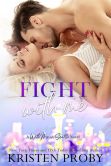 I am not even sure where to start with this review. I loved this book! I loved it so much that I picked it up again to re-read in case I missed anything. Let's see- is there anything that wasn't covered in this story?
Relationship Drama- Check!
Conflict and Heartache- Check!
Sexy, Steamy Situations- Check!
HEA?- Check!
I have never read Kristen Proby prior to this series, but she is on my top authors list right now. I cannot tell you how happy I am with Fight With Me. The love story was exceptional and I once again found myself in the fantasy world wondering where I could find a Nata McKenna.
Both characters are beautiful and Kristen kept all previously introduced characters in the mix. It was nice to see Nat and Luke again and witness the birth of their daughter.
I highly recommend this book to anyone who has an obsession with Contemporary Romance and general love stories.